CUSTOM DESIGN, BUILDOUT & MANAGED OFFICES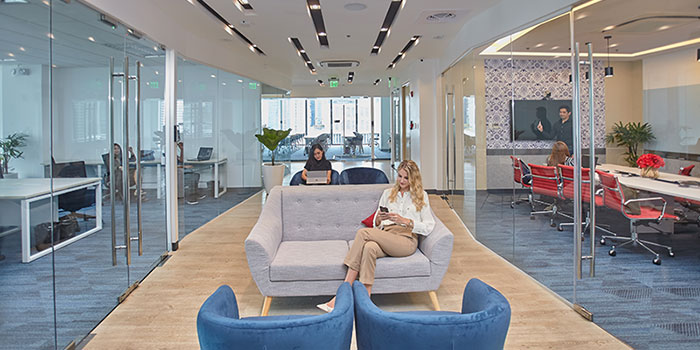 KMC works closely with clients to design and build customized office space with optional managed services throughout the Philippines. Choose between a customized large Private Office Suite within a KMC floor or an entire Build to Suit floor in any other building.
KMC's Enterprise team can also search for office building locations, negotiate and secure the lease then design and fit out the space while shouldering the upfront capital expenditures. This allows you to save on CapEx; no build-out, furniture or IT costs.
CUSTOM KMC OFFICE SUITES
Private offices with customized options in an existing KMC facility: Reception, lounge, meeting rooms, manager's cabin and phone booths. Display your company's brand identity, signage and design.
CUSTOM OFFICE FLOORS
Entire office floors designed and built to your specifications. We construct workspace solutions that allow clients to move into a customized office without large upfront capital expenditure through an OPEX model.
REFRESH CLIENT'S OFFICE
Redesign and layout of your existing office. Express your company's brand and vibe with positive color patterns, wallpaper, plants, art and signage.
Optional Ongoing Services
Optional Managed Services such as IT, Administrative, HR & Payroll, essentially creating a space as a service model.
KMC Advantage
Disaster Recovery & Swing Space
26 locations with 42 floors in Metro-Manila, Cebu, Clark, Iloilo
13,000 desks with at least 15% available at any time
Nationwide Office Network with Amenities
Coworking space with phone booths
Social & function areas
 Meeting & training rooms
Sleeping quarters
Clinics with on-site nurses
Experienced Enterprise Team
Commercial real estate experts
IT & Software Engineers
Architects & Designers
KMC will handle the following:
Property/ Facility Assessment
Strategic Facility Planning
Space Analysis/Building Efficiency
Building Infrastructure Analysis
Designing/ Interior Construction Management
Move-in Management
Office Furniture Management
On-site IT Consultation
Interaction with Telcos or ISP
Set-up of LAN, WAN, VPN
CAT5 Cabling
Purchase of computers, networking gear and other hardware
Set-up of computers, networking gear and other hardware